Our Summer Camp Guide is packed with fantastic creative camps to keep your kids' creativity going all year round. You'll find creative camps including art, music, dance, theater, photography, film and more!

Below, see some of this summer's hottest creative camps that are now taking registrations!

And find a full range of options in this year's Summer Camp Guide! .
---
Featured Creative Camps:




Everyone is a Star at Harand Camp of the Theatre Arts!
REGISTER TODAY FOR SUMMER 2019
Now celebrating its 65th Anniversary Season, Harand Camp offers performing arts training for campers ages 7-18, plus all the fun of traditional camp activities in a non-competitive, nurturing environment. Overnight sessions run 3 or 6 weeks and culminate with performances in our state-of-the-art theater. Campers take classes in singing, dancing and acting, as well as a variety of sports, art and activities. Evenings include all-camp games, cabin nights, concerts, off-campus trips, and more! Located at Carthage College in Kenosha, campers enjoy modern facilities, delicious meals, swimming pool, dance & fitness center, low camper/staff ratio and on-campus security. ACA Accredited (Program Excellence Award). Harand Camp of the Theatre Arts. Where "No Man is an Island" and EVERYONE is a STAR! For more information contact 847-864-1500 or visit www.harandcamp.com.
---
Emerald City Theatre Summer Camp: Imagination, Music, & Fun!
Ages 3.5 - 15. Locations in Lakeview, Lincoln Park, and Lincoln Square.
Emerald City Theatre offers camps all summer long that encourage creativity, collaboration, and teach valuable life skills like confidence, listening, and teamwork. Younger campers engage in creative play, learn songs, and create their own stories. Older kids and teens hone their theatrical skills in a real rehearsal setting, learn choreography, and build an ensemble. Each camp concludes with a final presentation for friends and family on the last day of camp!
Learn more and register online.
---
Explore Irish Music, Singing, Dancing and More
July 29 - August 2, 2019
Irish American Heritage Center, 4646 N. Knox, Chicago
Kids ages 4-17 of all musical abilities are welcome to participate in the Irish Music School of Chicago's 9th annual Irish Arts Week Kids Day Camp for one week only this summer! Whether they've never picked up an instrument or have been playing classical music for years, we have a spot for them to learn traditional Irish music, singing, dancing, arts and crafts, Gaelic, and history all while having a blast! Half-day and full-day options are available as well as a limited amount of scholarships.
Use code CHICAGOKIDS for $20 off one camper
.
Learn more.
---
Summer Jam Camp from Merry Music Makers
Designed to introduce children ages 4 to 8 to the world of sound, Summer Jam camp gives kids hands-on experiences with instruments and introduces them to music from our nation and around the world with crafts, songs, books, games, dance and more! If campers decided to stay after lunch and recess to make it a full day experience, there are different options based on their location. At our Edgewater site, campers spend time at the pool with the swim instructors from Edgewater Athletic Club. In Lakeview, campers enjoy a mix of guided free time with different group instrument classes each day. Andersonville offers them the chance to engage in camps from our onsite arts partners in theater, dance, or languages.
Learn more.
---
Summer Arts Camp at Old Town School for 4-15 year olds
Old Town School's Summer Camps offer enriching arts experiences in Lincoln Square. Campers will develop new skills, build friendships, and explore their creativity while thinking independently, working cooperatively, and discovering their own place in the arts. Three two-week sessions beginning June 24 are available for 4-6 year olds, 7 - 11 year olds, 12 - 15 year olds. In addition, Old Town School offers a one-week Fiddle Camp in July and one-week Dance and Musical Theater camps in August.
Learn more.
---
Photography Summer Camps at GTA Photography Classes (Ages 8-18)
We are excited to announce that we have 5 new programs to celebrate our 10 year anniversary this summer! Give your child the best summer ever here at GTA Photography Camps! We offer a unique and interactive experience through our DAILY FIELD TRIPS, hands-on photography activities, and more. From throwing water balloons to practice freezing motion by controlling shutter speeds to painting with light in a dark room by using long exposure techniques, we make photography fun! As a premier photography / film school and ranked as one of the Top 10 in the industry, we take pride in what we do! With 3 locations in Toronto, Ottawa & Chicago this is a summer camp you don't want to miss out on! See you this summer!
Learn more.
---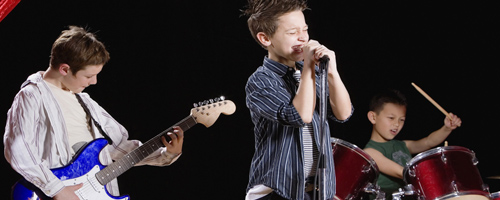 RockSchool - Play Music With Friends and Be a Star at Allegro Music and Dance Academy
RockSchool-Play Music With Friends and Be a Star.
No experience is needed in our fun camp where you will learn to play in a Rock Band, write songs, record a CD and Play a BIG SHOW for family and friends on the last day. Students Age 7-14 are welcome. You will get a chance to try keyboards, drums, guitar, bass guitar or bring your own instrument to ROCK OUT with us.
Check out the details on our web site.
---
Kidstreet Summer Camps at Lillstreet Art Center
Lillstreet Art Center offers week-long summer camps for kids ages 3-16 in a variety of multimedia and specialized art forms, including pottery, movie making, photography, textiles, jewelry, comics, painting and more. Each day of camp, kids add to the lively Lillstreet community, learning and creating alongside professional artists of all media. Each student is encouraged to embrace their unique voice and create fearlessly. Teaching artists foster a relaxed and non-competitive environment in the classroom and everyone has lots of fun!
Learn more.
---
Disney's FROZEN Summer Camp
ArtReach Summer Camps expose children to all aspects of theatre, music and dance, as well as swimming, arts and crafts, and outdoor activities. We accept any child from Beginner to Advanced performing levels with a genuine interest in the arts from age 5 through high school. All children are challenged and encouraged. This Summer, our six week camp will be presenting Disney's FROZEN, JR. We offer Private Voice Lessons, Dance and Acting Classes, Teen Programs and Summer Arts Camp Programs in the Palatine - Rolling Meadows - Schaumburg area.
Learn more.
---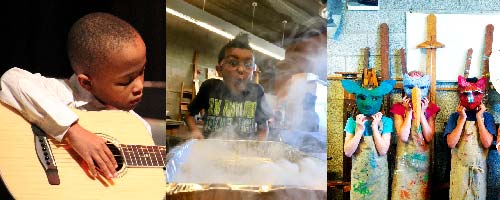 The Arts Come to Life at the BAC's Summer Camp
The Beverly Arts Center, the Southside's premiere performing arts center, brings back their wildly popular Summer Arts Camp with 6 sessions from June 10 - August 30. The full-day camp inspires kids ages 6-12 as they work with professional artists to explore skills in visual arts, theatre, music, dance, and more. By the end of the Summer, your child will have the tools necessary to be the next creative genius! Each session is $420 and offers the ability to purchase pre and after-camp care. If your kid is a bit younger, the BAC also offers a weekly Totally Terrific Tots half-day summer arts camp for $161.
Learn more.
---
One River School of Art Weekly Camps: Art, design, photography, filmmaking and more
Summer camps at One River School of Art offer students of all ages a series of progressive and creative courses across art, digital art, design, photography, and filmmaking. Weekly camps run from mid June through end of August, with over 70 innovative camp themes to choose from- from Street Art Painting to Short Film Creation. Camps are offered in the morning and afternoon sessions and students can bundle classes for a full day option. Instructors are professional artists and designers in their field - providing students with a fun and hands on exploration of new media, ideas and tools.
Two Chicagoland Locations:
Lincoln Square
and
Evanston
.
---
Performing Arts Camps for Ages 3 through 14!
Register by May 15 for 10% off!
Music House's Performing Arts Camps are designed to foster a lifelong love for the arts by fusing focused goals with engaging repertoire. Our motivating and inspiring teaching artists help to create a day that is full of learning disguised as fun! All intensive camps will culminate with a performance, video, or gallery showing. Options include Performing Arts Camps (ages 3-12, runs all summer long!); Professional Dancer in Training; Professional Artist in Training; Becoming a Pro Rocker; Professional Musician in Training; Pit Orchestra; Musical Theater Camp; ACTION!: and Creating, Designing and Exploring Film for Theater.
Register by May 15 for 10% off! Register for the whole summer, get 1 week free!
Two Locations: West Rogers Park: 2925 W. Devon and Humboldt Park: 1018 N. California.
Learn more.
---
Find more options for creative camps and many others in our
2019 Summer Camp Guide!